June 16, 2008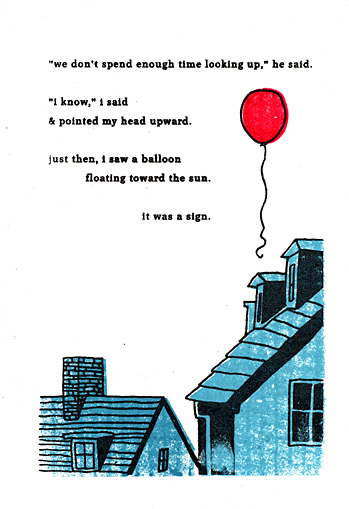 I am thrilled to announce the debut of True*Stories, a series of art prints featuring my original stories and illustrations. I have been wanting — needing — to do this for far too long, and I've finally made it happen. (Cue theme song from Lavern & Shirley, which has been looping in my head since I launched the print, "On your marks, get set and go now!")
This first piece, titled Look Up, was inspired by a serendipitous walk that Rama and I took around our neighborhood. It comes in a limited edition of 50 prints, each lovingly screenprinted by hand.
This collection of work is especially near and dear to my heart because all proceeds will go toward my Send Christine to Squam Fund. There's been a tugging on my heart to join my fellow artists in the woods, and I have been trying to figure out a way to do it. What a beautiful thing it would be, I realized, to fund one creative adventure with another!
If you need a reminder to look up (and forward and closely),
If you want to help out this artist on a quest for adventure,
If you believe in the power and beauty of true stories,
please check out and purchase my print here. Thank you.
*Although they may or may not have actually happened, there's truth to these stories.