December 17, 2009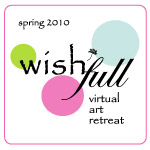 I am so excited to share a bit o' news with you: I will be teaching next spring at the Wish*full Virtual Art Retreat, a one-of-a-kind online event. This retreat will feature workshops brought to you by 14 artists and teachers (some are dear friends, others are online muses, but all are inspiring), along with the chance to connect with other like-minded creative souls—all from the comfort of your own home. Yes, you can attend in your PJs and no one will be the wiser!
The retreat will be April 30 – May 2, with early registration open now. You can enter to win a $100 wishcertificate that goes toward your registration, or be one of the first 25 registrants and get $20 off.
Classes and workshop details will be unveiled in the wishstudio next week, but I'll give you a hint about mine: It will be a very good thing.

Chaque says:

December 22nd, 2009 at 12:04 am

This is a great website. I wish I could make something like this. I do have my own website (which I built on Yola for free), and I still don't know what to put on it. Really, nothing much in there yet. Anyway, I know I can get some fresh ideas here. Thanks!